I recently had an offer from a company here in York PA to put some nice looking graphics on my trailer. Originally they wanted to wrap one of my mowers but I think this will work out better for them as an advertisement.
An overall side shot. The door side is the same design, bu they left the door open.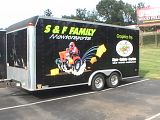 My family is a large supporter of the American Cancer Society, with two very close friends fighting breast cancer right now, it only made sense to have this on our trailer.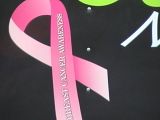 With out the fine folks at Graphik Masters this would not have happened. Give them a call, ask for Cindy, mention the Racing Lawn Mower trailer and receive a discount on your next project. 717-757-6878
A close up of the mower art and team name.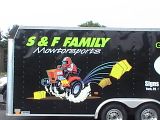 Another full side shot.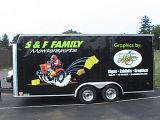 A shot of the rear door, again, same art, just scaled down to fit the door.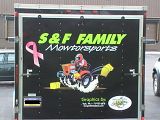 Another side shot, with my boy in the picture.
Another close up of the mower art.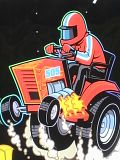 Again, it is Graphik Masters in York PA, 717-757-6878. Ask for Cindy to get a quote done on your next project. Mention the Mower Racing Trailer and receive a discount.
Dean Jr.