Rookie

Posts: 249
Joined: Fri May 05, 2006 7:51 pm
Location: Palmyra,Pa.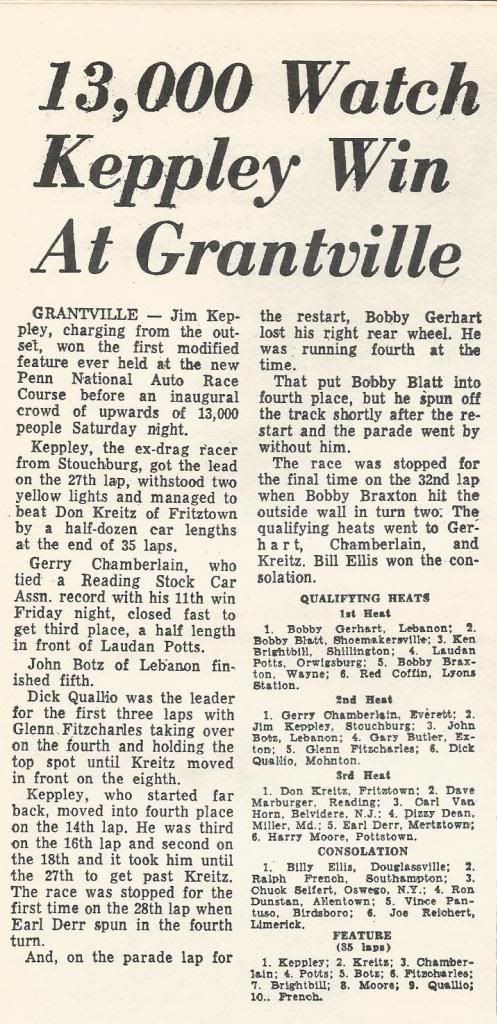 Shemp- What are you trying to do, ruin my looks ? Moe- Impossible !
---
Pit Member

Posts: 778
Joined: Sat Aug 01, 2009 4:41 am
Location: Taneytown, Md.
WOW!! That brings back more then a few memories. I was there for that one, Penn National was one great race track. Jim Keppley certainly had that place figured out, he seemed to fly around there.
---
Crew Member

Posts: 1171
Joined: Thu Feb 02, 2006 7:47 pm
Location: poconos
Contact:
im assuming thats kreitz sr. that was second
---
Junior Crew Member

Posts: 303
Joined: Wed Mar 22, 2006 3:54 pm
Location: PA
That is correct. I believe Donnie Jr. started racing around '79.
---
Who is online
Users browsing this forum: No registered users and 5 guests